STRONG JOB.
STRONG FUTURE.
Start an apprenticeship with perspective!
Your first step towards the future.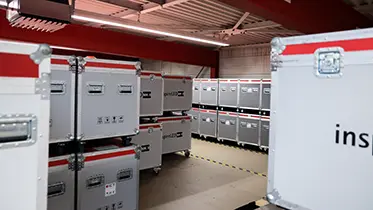 Varied activities, exciting future prospects and an appreciative team. With an apprenticeship at ICT AG you take the first important step in your professional life. You benefit from the know-how of our employees and constantly develop yourself further. Your successful completion and subsequent permanent employment are our common goals.
Here you can get an overview of all the apprenticeships we currently offer. Of course, you can also inform yourself about our individual professions and locations without obligation.
You don't know yet what to do after school? Find out which profession suits you best during an internship with us. During the internship you will have the opportunity to get to know our company, our culture and the work processes in the departments. You will look over the shoulders of our employees during their daily tasks and you will also have the opportunity to lend a hand yourself. We are looking forward to meeting you! 
These professions
we train.
Here we share our in-depth knowledge.
Jörg Bader
IT system electronics technician trainer |
Stuttgart
Petra Struck
Trainer Event Management Assistants |
Berlin
Dietmar Mangold
Trainer Specialists for Warehouse Logistics |
Stuttgart
Thomas Reutter
Instructor Specialists for Event Technology |
Stuttgart
Susanne Olbrich
Trainer Industrial Clerks |
Stuttgart
Christian Thom
Instructor Specialists for Event Technology |
Berlin
Finn nail
APPRENTICE - IT SYSTEMS ELECTRONICS TECHNICIAN
"I particularly like the family atmosphere at ICT. I feel in good hands and really get an answer to every question here. I also have something interesting to do every day and I get around a lot. The training here is totally varied."
Dodon Manneh
APPRENTICE - WAREHOUSE LOGISTICS SPECIALIST
"It was a very good decision to do my training at ICT. Since German is not my mother tongue, it was not that easy for me at the beginning. Luckily, my colleagues have been totally supportive and I can always turn to them if I have any questions. I love that I can work not only with my head but also physically. I really enjoy this combination. The best thing here is the team spirit and that you are super integrated."
Lennart Loskarn
APPRENTICE - IT SYSTEMS ELECTRONICS TECHNICIAN
"During my training at ICT, I go through various departments such as IT and production. I'm either on the road at construction sites or working on productive tasks for customer projects and internal requirements. I really like the fact that I'm allowed to organize my day flexibly for the most part and can schedule my tasks independently. The joint trainee projects and regular training sessions are particularly fun. You're constantly learning something new."




We work with our partners at the Baden-Württemberg Cooperative State University, the Stuttgart Media University and the Schönbein Realschule Metzingen to provide the best possible support for young talent.
We get involved by taking over teaching sessions and career information evenings.