Go directly to the job ads:

THAT'S WHO WE ARE 

With around 200 employees at our headquarters in Kohlberg near Stuttgart and branches in Berlin, Frankfurt, Cologne and Munich, we turn brands into experiences. We are a solution provider and full-service provider in live communication. This includes media-technical productions for trade fairs, retail stores, events, TV & film, brand worlds and studios.
THAT DRIVES US

The latest technologies, individual solutions, renowned customers - we are on fire for media technology. The driving force behind our diverse projects are our employees. Together we develop our company one step further every day.


FEEL GOOD. DO GOOD. 

We create a working environment that benefits from innovation, quality and respectful cooperation. Our open corporate culture characterizes the "we" feeling: open-minded teams, a pleasant atmosphere and communication at eye level. This is how we create space for ideas and development of our employees.
REMAIN FLEXIBLE

The work-life balance of our employees is very important to us. That's why we try to create the most flexible conditions possible, depending on the position: Individual working hours and locations, home office and mobile working are possible.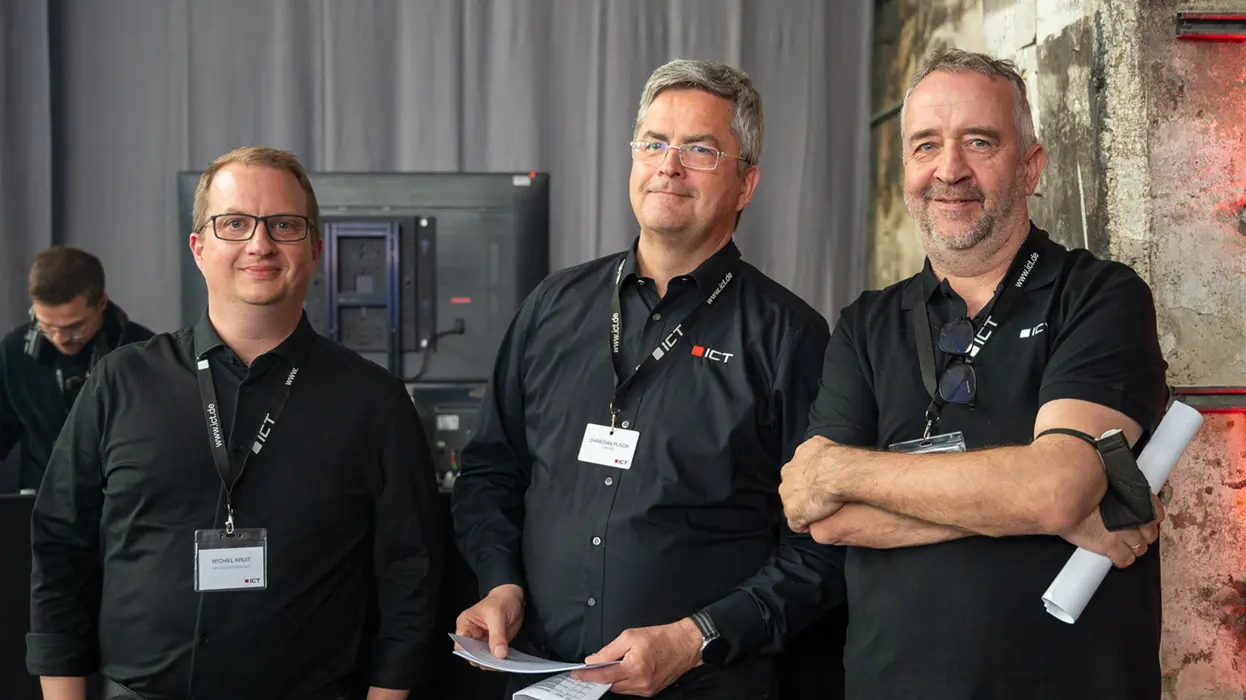 YOUR GROWTH IS IMPORTANT TO US 

From the problem to the solution. From the challenge to a personal sense of achievement. Your development in everyday work is characterized by our extensive know-how, the use of the latest technologies as well as personal responsibility and room for maneuver. We also attach great importance to taking on our trainees in the company after they have completed their training.
BECOME PART OF OUR TEAM

We are always looking for new colleagues for our numerous teams who are up for new challenges. We welcome interest in forward-looking technologies, curiosity and a hands-on mentality. Create unique experiences together - be part of it!

Technology
Here, everything revolves around event and media technology. As a technician, you take care of the assembly and commissioning of events or installations. Afterwards, you will be in charge of the technology at the events and productions as an operator. From large-format LED displays to spectacular video productions and interactions as well as audio solutions, you will be involved in everything that makes your technical heart beat faster. As a project manager, you will be responsible for all organizational processes from planning to execution. This includes project management as well as communication with customers, suppliers and agencies.
Distribution
In sales, you are responsible for supporting our customers. You build business relationships and analyze new markets and potentials. To meet the individual needs of our customers, you develop offers, present them and lead the projects to a successful conclusion. You are in regular contact with your customers and maintain and strengthen your network. In the back office, you support our key account managers in the preparation of offers, calculations, invoicing and other administrative activities.
Logistics
You are responsible for ensuring that all goods are always where they are needed. This includes the incoming goods department, where you check the delivery to make sure that everything is ready for use. In outgoing goods, you take over the compilation of the required materials and make sure that everything arrives safely at the desired location. In materials planning, you manage the rental of missing equipment and communication with our suppliers.
Commercial area
You make sure that everything runs smoothly on the commercial side of our company. In accounting, you keep track of current finances and manage receivables, liabilities and fixed assets. In Controlling, you plan, analyze and monitor our figures and make recommendations for improvements. In the purchasing department, you are always on the lookout for the most reliable supplier, the highest quality and the best price. In the HR department, you not only ensure that we find the right employees for all tasks, but also support our managers and employees in all HR-related topics.
Customer service
After the completion of our projects, you will take care of the processing of service requests in the service desk. Simple problems are solved on the phone or remotely. All customer inquiries are administered and managed via a ticket system. You will work together with all specialist departments and suppliers in order to provide optimum support for the systems. As a service technician, you will either always be working for the same customer or for different customers on a daily basis. Here you perform error analyses, maintenance, software updates or small optimizations and changes to the customer's systems.
Production
In the design department, you will use CAD programs to produce technical drawings for our projects, place external production orders and provide support during assembly and commissioning. In the area of mechanics, you will complete the designs in our workshop. Your daily tasks include sawing, drilling, turning and milling. In production, you will prepare the technology before it goes to the construction site. Here you deal with playback PCs or media servers and prepare all IT components for installation. Technical solutions for individual customer requirements are also developed and built here.
At the start throughout Germany
Stuttgart. Kohlberg is located southeast of Stuttgart. Our main location with 140 employees is located here.
Berlin. The branch is located in Pankow, in the northeast of Berlin. In addition to a very large warehouse, we employ over 30 people here.
Munich. The branch is located in Freimann, in the city center we have an additional operating location. 20 employees work here.
Cologne. The branch office is located in Ehrenfeld, and we have an additional operating location in Bonn. A total of 10 employees are on the road here.
Frankfurt. Hamburg. Dusseldorf. Nuremberg. Garmisch. Many employees work from their mobile offices, which is why we are represented throughout Germany.